UNIQUE WEB-BASED SOLUTION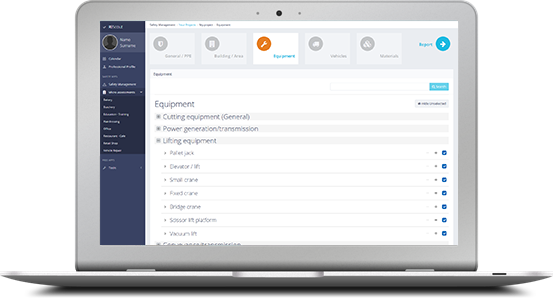 Everything in one page
All data and background material tie up with the risks and relevant safety measures in one single page (in expandable categories).
Check and review quickly and hassle-free
Access everything from anywhere
No need for demos or tutorials. A simple interface that allows you to input, locate, update or extract all of your safety information at any time. Scroll-and-click operation that allows you to work on your tablet or mobile phone.
Automate your safety work
On-line paperless audits on dynamic check-lists
Risk assessment is automatically updated with each audit
Reports automatically sent to recipients
A single safety calendar with all your safety tasks
Save time identifying risks and measures - RISCOUT will do this for you. Improve your communication with our one-click screenshot & email tool. Training, inspection and maintenance tasks from all projects shown on your easy-to-use safety calendar.
Any report you need
Safety-critical infrastructure and materials
Personal protective equipment
Noise, vibrations, radiation, chemical and biological factors
Fire safety
Get all the information you need at a glance. Meaningful reports will offer you important information that the eye wouldn't catch. Priorities for your risks, measures and infrastructure with focus on true safety management decisions.
AVAILABLE IN YOUR LANGUAGE:
PRICING
We set our pricing at a level that allows us to provide a solid product,
and more importantly, a great experience for you as our customers.
Single Project
free

Full access for one project
Safety calendar
E-mail screenshots
Single access
No support
No task-scheduling
Professional
€259/ year
(excl. VAT)
€129 / year

(excl. VAT)
Full access up to 10 projects
Unified safety calendar
E-mail screenshots
Single access
E-mail support
No task-scheduling
Consultancy
€999/ year
(excl. VAT)
Full access up to 100 projects
User customized safety calendar
E-mail screenshots
Multiple levels of access
E-mail support
No task-scheduling
Tailor Made
contact us

Full access to infinite projects
Tailor-made safety calendar
Customised e-mailing tool
Project buildup-data entry
Phone and e-mail support
Task-scheduling
Are you a safety consultancy?
Make RISCOUT your main working tool and get even more of its benefits:
Up to 100 projects
Set up multiple users per project to manage your information flow
Assign projects and levels of access according to your needs
Schedule your automatic email alerts
Personalised calendar per user
Monitor all projects from the office, home or on the move.
Need even more? Have your own, tailored-made RISCOUT and install it on your own server. Contact us to discuss your needs and we can redesign its interface and reporting format to meet your expectations.