UNIQUE WEB-BASED SOLUTION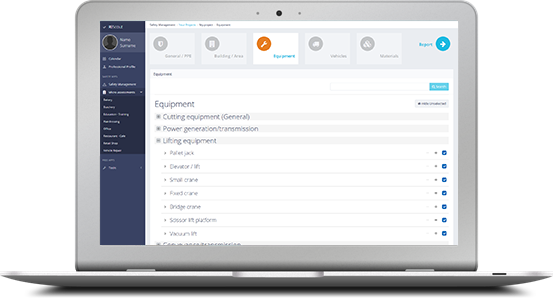 Are you ready to change your daily routine in managing safety?
To build your complete safety case with just a few clicks?
To have your risk assessment automatically calculated and updated?
To get a list of missing safety measures sorted by importance?
To access and email any report you need easily?
To manage incidents and schedule your safety tasks?
To have a brief update in your mailbox every week or month?
To switch between languages at any time?
AVAILABLE IN YOUR LANGUAGE:
PRICING
We set our pricing at a level that allows us to provide a solid product,
and more importantly, a great experience for you as our customers.


Professional
€259/ year
(excl. VAT)
Full access up to 10 projects
Unified safety calendar
E-mail screenshots
Single access
E-mail support
No task-scheduling
Consultancy
€999/ year
(excl. VAT)
Full access up to 100 projects
User customized safety calendar
E-mail screenshots
Multiple levels of access
E-mail support
No task-scheduling
Tailor Made
contact us

Full access to infinite projects
Tailor-made safety calendar
Customised e-mailing tool
Project buildup-data entry
Phone and e-mail support
Task-scheduling
Are you a safety consultancy?
Make RISCOUT your main working tool and get even more of its benefits:
Up to 100 projects
Set up multiple users per project to manage your information flow
Assign projects and levels of access according to your needs
Schedule your automatic email alerts
Personalised calendar per user
Monitor all projects from the office, home or on the move.
Need even more? Have your own, tailored-made RISCOUT and install it on your own server. Contact us to discuss your needs and we can redesign its interface and reporting format to meet your expectations.